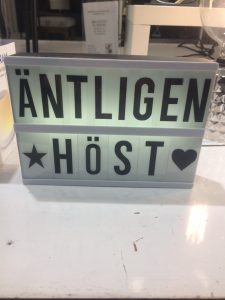 At last autumn , well that was my thought until a got the Cold. With a runny nose and a throbbing troat, there was nothing left to do then rest from the workout. But I used the time in a efficient way. This by improving my knots skills.
So now I got a improved knowledge and skills about knots, so the Cold brought some good stuff as well..
This week I have interviewed Lisa Lindblom, manager at Storulvån mountain station.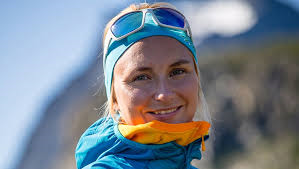 What is your background, were does your interest for outdoor come from?
-I have grown up in a sledge behind the families Greenland's dogs. So, that was the winter and during the summer we hiking between cabins in the mountain environment, so it was quite naturally for me to be in the mountains.
Today you are manager at Storulvan mountain station, can you see any trends in the outdoor activities?
-Health and hiking is an overall trend for a quite long time now, but ski-alpinism is a fast-growing activity. It is comparable with how trail/sky running has increased the last years. I can see it in the interest of our courses for beginners in ski-alpinism. They are very popular, and even if I don't have it statistically verified I think many of those who have participate in the beginner's course continue with the step 2 courses as well. Higher and steeper mountains are more enticing all the time.
The area in the western Jamtlandsfjallen keep developing all the time, and now even Sylarna got its own restaurant. How does that affect the area with three mountain station serves dinner etc.? Will it be a challenge?
-Sylarna has always been in scoop for a restaurant. Due to budget, in the beginning STF choose to build water toilets instead of a restaurant. Something that has been regretted since that time. But all the three stations got its own profile and culture, so there will not be any competition between them.
If you got a pick your special area in the Swedish mountains, which one will it be?
-During winter the choice is simple; Kebnekaise. There are so many places for good skiing, so that would be my first choice. When it comes to summer, the choice will be Harjedalsfjallen.
Ok, so you have been manager for Blahammaren, Kebnekaise and Storulvan mountains stations what will be your next step?
-Well, I don't know at the moment. I don't think I will be retired as manager of a mountain station, so I wait and see what Life carries in its mind for me. I study at the sametime as I work, I still aiming for learn more things so let's see what happens in the future.
From my Point of view Lisa has done a enviable carrier in the Swedish Tourist Associations. But I am not suprise, as she told me during the interview its hard work that is nessasary in the Tourist area. And that is something that is her hellmark.
Now it is time to prepair for the Winter season. This will mean skiing for some of us. In Åre we got lots of good skiing, and here you might give some suggestion of a hidden one..Listen and you will find out were:-)
But you must Always put safety in first Place. Dont let your best ride be your last..
And until the snow is inplace climb:-)
Watch: First Ascent on Faroe Islands 'Biggest Sea Cliff in the World'
Another interesting thing is how we act during climbing mentally. How to push the limits. One of the best climbers in Sweden will be Said Belhaj, listen to his story here..
https://www.podbean.com/site/EpisodeDownload/PB9592B7ISFU7
And at last, one of my favourites…See ya soon.