Sundays is good days. I always feel a bit of melancholy, and it gives room for reflections. I also use the Sundays for improvement and develop my skills.
A nice cup of coffee and some good education it a nice way to spend the Sunday..
Today I've been training a lot as well. Started the day with one hour and fifteen minutes speed walking with the Husky. After that a real nasty Cross-fit workout with the police friend of mine. Then another speed walk with the husky. And ended up the workouts of the day with speed running 30 minutes with the husky. After all of this its time to read the books and make new prusics for the upcoming ice climbing season.
Ice axes is basic for mountaineering. First of all there is two different classifications. B and T class. The letters stands for Base and Technical. The difference is that the B ones is lighter and cant be used for technical climbing. Those ones are perfect for normal mountaineering. The T ones is much stronger and can be used for belays. The "walking" ice axes is normal 50-70cm long. The alpine ice axes is normally 50-60cm long. The technical ice axes are fully curved with steep pick angles. You use this ones I pairs, one with adze and one with hammer. Some of the ice axes is semi made for both ice climbing and alpine use. From my point of view, if you are going to ice climb buy a real technical from the beginning. otherwise you will be disappointed. There is a big difference between them.
If you are going to ice climb, use good tools from the beginning..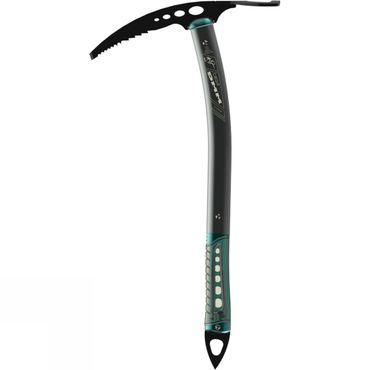 This one is a semi technical ice axe. It got some angle but not as much as the ones above..You can use it temporal for technical climbs, but not in the long turn. But is perfect for alpine use..
When it comes to gear, and that the winter season is knocking on the door. I have find a pair of interesting winter running shoes. From the Italian producer La Sportiva.
A winter running shoe, for alpine use. The La Sportiva Cross over 2.0 GTX
For more information follow the link… https://www.sportiva.com/crossover-20-gtx.html
See ya soon, and then about first aid in the wilderness..