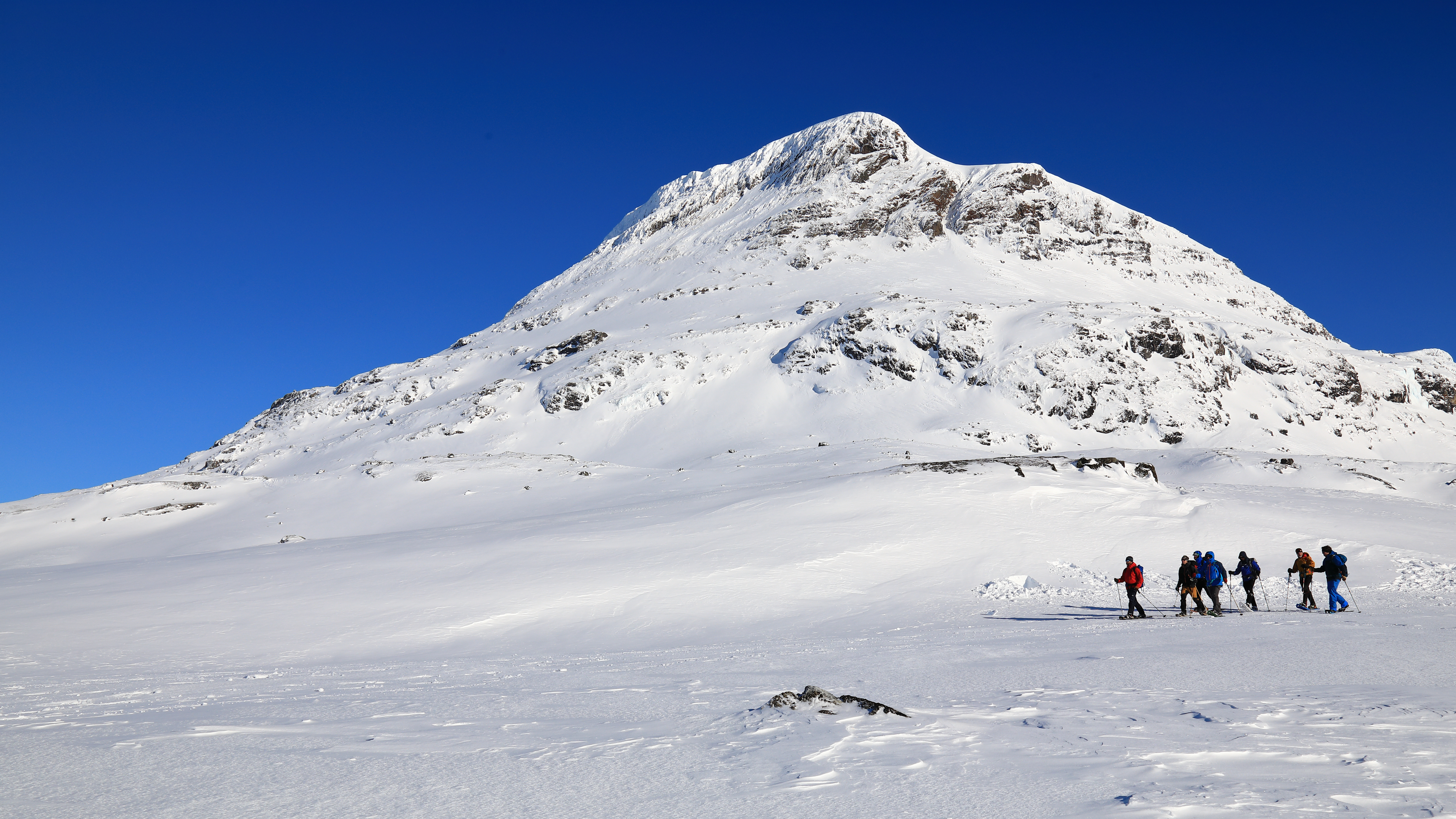 (Photo Dominique Olbrechts)
As a International Mountain Leader you need to have a well founded self-confidence. That is the ground for becoming a good guide. With a Summer training, winter training and also a summer assessment the Winter assessment should just be a check out of that. But how does a day at the Winter assessment look like? The day starts with a weather briefing, a avalanche briefing and a risk/safety briefing.
(Photo Dominique Olbrechts)
When that is done, it is time for a equipment and group-check of the transceivers. One of the aspirants now got the task to get the group to the place of the first assessment of the day.
This day it will be a (photo Dominique Olbrechts)
transceiver search and a snow profile check. After everyone have done the both tasks it is time for heading for home. So one of the participants will get the task to get the group back safe and steady to the place of the overnight of the day. This day it was the Katterjakk tourist station, so nice place. But the day is not over yet, there will be a briefing of the day for everyone and also a information of the upcoming day schedule. Next week it will be about another day with the IML's.
When it comes to gear, I will test a old gold pair of pants and also a boot from Norway. First out for presentation will be the Alfa Eggi Advanced GTX boot. This is a robust hiking boot with a Gore-Tex liner. It has a real good lock-system so it it quite easy to get to fit on your foot.
It is light weight and has strengthening in the front as well as on the heel. So far I really like this boot. I will use every day on my Husky hikes, so I think I will have good chance to present a good review on this boot. 
And next in row for review will be an old friend in new version. The Haglofs Rugged Mountain Pant. This pant goes in under the category of not liners. This meaning no Tex material. I am a bit sceptic to this variants, this due to that you always need a pair of shell pants with as well. This if the weather becomes very wet for example.  But as my friend Micke says, I have used this pants for how long time as hell.
The pant got lot of good pockets, and reinforcements were it needed. It also got very good ventilation's. I have a Fjallraven Keb trousers in the same category and I am very satisfied with them. But I must say, I'm not using them in hardcore adventures…I might change after reviewing this pair, lets see…
The 20-22nd of May the Stockholm Outdoor Festival will be presented. Here you might get some new ideas about upcoming adventures..Program – Outdoor Festival STHLM
You can also enjoy the Utehelg at Varmdo 13-15 of May, here you also will get some good ideas of new adventures.
Français Chasseurs Alpins ● French Army's Elite Mountain Infantry Unit – YouTube
House of Love / NAAMAN – YouTube
See ya soon..