Sorry for a week without update, I ran out of time..
The training has followed the plan. Last Thursday-Sunday I was in Åre freeheel skiing the whole weekend. Early Friday morning, we went up and meet up with the ski-guide at 0800. As the only four in the ski area it was amazing. The weather during the weekend was a bit stormy, but otherwise the condition was perfect. This week it will be 9 workouts, within 9 hours..
Free heel skiing in Åre area.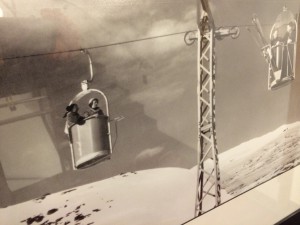 Standing in the cable cabin this days, is much more cosily then for just a couple of years ago (the photo is the cable car for Åre skutan in old times)
Yesterday I read a interesting chronicle in Svenska Dagbladet from Jenny Damberg. She wrote about ultra-running and all extreme variants of training. I think she got a point. Today everyone need to be more unique, to standing out from the crowd.  we have those who train everyday, and then we got those who doesn't train at all. And it is a bit of the same feeling about mountains. the extreme ones will always be there, but it is the others that need to stop the clock and feel the humility to the nature…Every new one, for the mountains is a victory:-).
Is it all about weight? Most of the magazine do test of mountaineering equipment. The thing is on lately they always write abut lightweight stuff.  It is of course good most of the time, but dont forget that the quality. I tested the La Sportiva Storm Fighter GTX pant in Åre. It is a light shell trouser for  ski-mountaineering. Quite light, but not I will use in high altitude environment..
A light pant, but be causes were the use of it..
Here come this weeks training music, the Swedish band Hives with Blood red moon..enjoy:-)
This year will be the year of testing different type of training. So today I will try a new thing. I will tell you next Sunday what is all abut. But challenge yourself with new types of training and you will develop your mind as well as your body:-).
Time for a thoughtfulness in Åre..
My spirit is longing for mountains, but I will be there soon. I know:-)