This week the interview will be with Carl-Johan Olofsson. Living in Arvidsjaur but spend most of his time in the  mountains…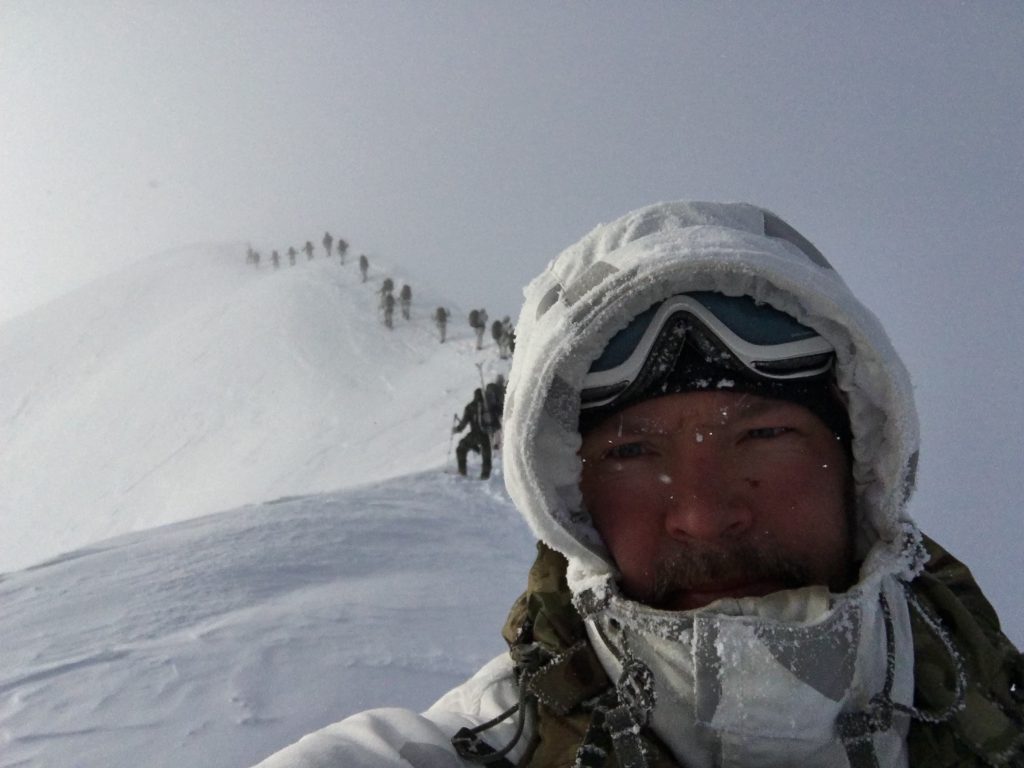 Carl-Johan Olofsson at Kebnekaise
What is your outdoor background?
I have had the privilege of serving in "outdoor units" where we work both in the forest and in the mountains for a great deal of time. In 1996 I did the service at Commandment at Lapland ranger Regiment (I22) in Kiruna, and it was mainly there I was stacked for the Swedish amazing mountain environment. This was containing a mix of a winter and summer climbing of Kebnekaise. Then it continued with mountain tours both in my spare time as well as in the service. I was trained at the Norrland dragon regiment in Arvidsjaur, which today is the Army Ranger Battalion, to become both the Mountain instructor and as avalanche specialist. Later (2005) was given the opportunity to conduct an organization and method attempt (OMF) to create a more varied mountain capacity at the federation, commissioned by the headquarters. That decision meant a lot. If I know, then what was required I would have said no for sure. At today, I regret absolutely nothing but it has been a time-consuming mission that has taken a lot of energy over all. And of course, spent much time affecting both physical and mental presence in family life. Then it has of course given enormously much and the whole family is today active downhill skiing in IFK Arvidsjaur Alpine club. An interest that was born when I had to raise my own skills in downhill skiing where my skills of it were lacking. I simply had to travel with the family to Hemavan, Riksgränsen and of course our local hill Prastberget. In 2006, I started a three-year education in Austria to Heeres Bergführer (Military Mountain Guide). The training was conducted practically for about 15 weeks a year in Austria. The time between time was to raise our own personal skills while the OMF was to be carried out with three conscript's mountain platoons (2007-2010). The development of new mountain equipment for the organization, training plans and education of the soldiers. Thus, that I could sometimes be almost 8 months a year in the mountains, the alps or some battalion exercise in the woods or in the mountains. Two young children there at home, of whom the youngest' s first birthday, I could attend when he was 7 years old.
The time in Austria was amazing. We continuously completed the education in new mountain areas and the experience bank was built up in avalanche speed. Moving the boundaries forward and being pushed by the instructors to the utmost with the aim of learning where the limits of our own ability lie. Then, of course, there were requirements in skills that were to be achieved both practically and theoretically. In total over three years, there were about 150 different examinations. The term of office of the head of the course was clear. "It is now it starts". Now you are standing by yourself and you cannot afford any mistakes." It was true it was when it started. An increased responsibility to lead relationships in extreme terrain, to constantly raise troops / commanders, as well as create progression and effectiveness in the education programs without crossing the borders. It requires mutual trust. When we practice, we have one that I call "buffer zone" until the limit goes. With more experience and expertise, it shrinks that zone, and with operations we are close to the limits if required. Winter is my favorite season in the mountains. Ski touring in our subarctic climate zone and laying the first line in the new snow is an unbeatable enjoyment. I have also had the privilege of being the only international student to date, such as Austrian Heeres schilehrer, an education divided into three times, 2 weeks during 2 years. From being able to make the perfect plow in the slope to extreme off-piste skiing in steep gutters in St. Christof am Arlberg. It has been a life in the mountains for the past fifteen years. We have been forgiven of accidents despite enormous activity, which I am so grateful for. Over the years, we have supported various agencies with rescue and clearance operations in the mountains. When other authorities do not have knowledge or resources for example mountain rescue, we are a resource force that can be used. Two of the major challenge have been the Hercules accident in Kebnekaise and the post flight in Ritsem, where I was the military director of Operation. The Hercules accident we worked with during 5 years and saved about 38 tons of a total of 40 tons of wreckage in hard terrain.
When it comes to leadership, what would you say is the difference in the mountain environment compared to "regular" leadership?
The difference is big and I have learned a lot. I am conducting activities today in the same way as I do on the mountains, which is successful*).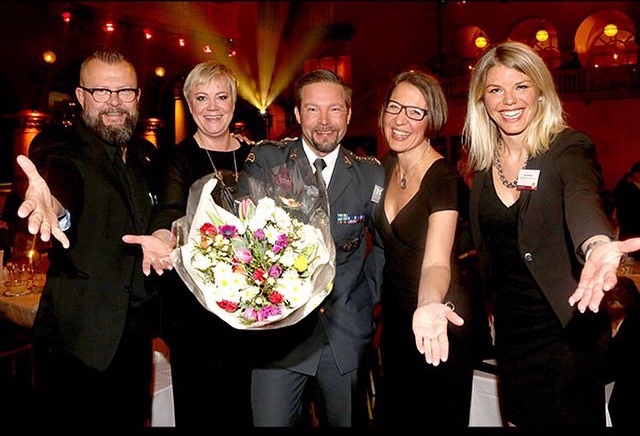 I usually work in three steps, TARGET, FUNDS and ENVIRONMENT in all activities that I conduct. Environment is the central part and it is not environment in terms of mountains, forests etc. It is the working environment. To always create as good working environment as possible for all employees regardless of the conditions. If we create a good working environment where there are times for good recovery, we will be able to focus on the goals of the tasks we have, and with greater likelihood of reaching them safely. A present leadership is a must, you got to know and understand the coworkers condition. It is usually easy to see, but also easy to miss as we work very often in a decentralized way. There is nothing that hurts such deep wounds in one's self than when one hears that someone has been exposed to unnecessary risk or ended up in a situation I did not calculate with. Building mutual trust in which we can trust each other is the essence of the business. I must trust that I can send employees independently on assignments without crossing the borders, and employees must be able to trust me not to send them on assignments that are beyond their ability. Getting to the dialogue in planning for an assignment, where it is an open climate where everyone can say stop before and during the mission. It is no more difficult to change the plan and redistribute funds. Regardless of business, I'm of the opinion that we will always try, but where we can say stop before we crossing the limit. Then we choose a new direction towards the goal.
*) Carl-Johan was appointed as the leader of the year 2015 (of the Chef Magazine in Sweden).
What does the military mountain guide education differ from the civilian (besides the tactics of weapon technique, combat technique, etc.)?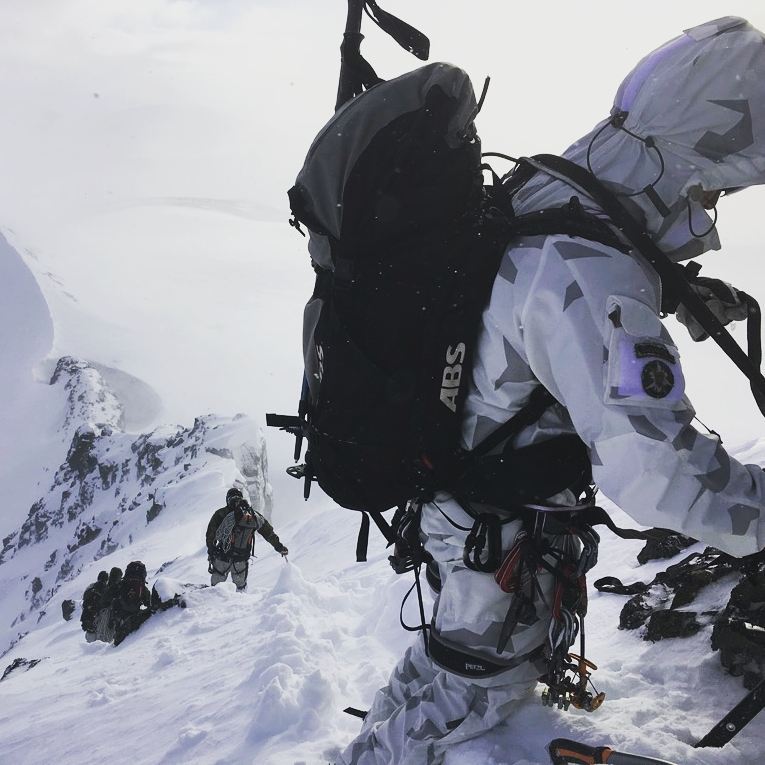 Many differences, even if not count on the matter of such as reconnaissance and combat. Militarily, we work with larger volumes of personal. We should be able to lead everything from an individual to a whole unit. It imposes other demands on safety tips and techniques to make more difficult passages in extreme terrain and environment. We construct a lot of fixed installations i.e. builds what we can describe as field work compared to "via Ferrata" solutions on snow, ice and rock. A major training package in Bergführer education was just fixed installations. We put in addition to the very time of security by evaluating the terrain in theory and practice. We are translating it into situation map "gebirgslage"(Sv. Lägeskartor) which we then follow up during planning and missions. A lot of time is spent by planning and training Mountain Rescue. We always involve qualified healthcare professionals who are also trained for mobility in the mountains. During the Bergführer training we conduct a three-week training course to become an international rescue specialist where we practice rescue in all its forms, with rails, cable cars, fixed installations. And finally, one week of winch from various helicopter types used in the Alps. In the field exercises in mountain ranges, Bergführer is the role of being the commanders right hand as "counselor" in all questions related to the mountain environment both tactical strategical and technical. I usually say that on the ground I am the captain, but in the mountains, I am the general. Then we will remember that our primary task is to be a soldier where we serve. We are not out of any adventure; we are training to achieve an ability to protect Sweden's interests in international conflicts or which God forbids in the event of sacrifice in our territory.
From who is the Mountain Platoon gets its assignments, who is the client?
The government is the ultimate client of the Armed Forces. The Armed Forces have set the task of the Army's Rangers Battalion to maintain the Armed Forces ability to act in mountain terrain. When it comes to tasks to support civil society resources, a request for the Duty Officer at the headquarters and / or to the Duty Officer's military area is north. In that case, we do not maintain any basic preparedness or extra training. We support the ability, i.e. the skills, material and staff we have available, which usually suffice.
Can you see that the need for mountain warfare and arctic skills increases?
It increases significantly. The strategic importance of the Arctic regions has increased and many actors have interests in those areas. We have international units we co-operate with in subarctic mountain ranges and that interest grows. It's not for the adventure, it's because there's a capacity and in Sweden we have good conditions for practice. And we have good experience in mountain/artic warfare.
Can you see any trends in mountain sports?
What I see is that more tourists value our mountain environment both summer and winter. The number of tourist increase. It is not the classic hiking trails that currently apply. Skiing alpinism has, for example, increased and thus also facilitated access to extreme terrain. Unfortunately, not everyone has the knowledge needed. Poorly equipped and limited skills to evaluate hazards cause accidents to increase.
Your special spot in the mountains?
I always value the time in the Kebnekaise massif. There is something special about the area that engage me. Winter time of course with all these fantastic ski opportunities. I'm very excited at Nikkaluokta where I got many friends for life here, since the work of Hercules's accident. It's extra nice that Sarris manages the transport and restaurant with accommodation in Nikka, and that Marit is the manager at Kebnekaise mountain station.
What do you always bring for personal equipment with you for the tours?
My ice axe: Grivel Jorasses never stays at home. It has fifteen years in service. Then, of course, I will not forget my Tirol heat bean.
What is your best mountain experience and what is your worst mountain experience?
There are many nice experiences. But one of the best is when I helped Aron Anderson and three more former childhood cancer patients to achieve their dreams. We passed Kebnekaise via eastern trail with Björling Glacier as a base for two nights. It was great to be able to support such a project and be a part of their joy. One of them was really sick of the disease and I was doubtful if we were to succeed. But with help of two of my instructors at the Eastern trail, we managed to finish. Do not stop until you tried …
The mountain practice in Kebnekaise that ended with a Hercules accident is probably the worst and most extreme. To be forced to decide to turn around during the rescue effort, even though we were close and understood where the planet was. The risk was too big and we had already been close to the limits of the condition of the weather. But it was difficult to wait for a weather improvement as we know that below has happened before and there may be survivors. Then look at the ridge between Kebnekaise North-South Summit, as we understand that there is nothing more to do. That's something I could never imagine. An aircraft of 40 tons and remains in such small parts. It was tough, and took long time for processing. But there was much left to do for the relatives, the environment and the investigation. I had planned a trip with the family to Kebnekaise that summer, but it had to wait two years before I could bring them there. I enjoy Kebnekaise, but it will never be the same as before that experience.
Best coffee on the trip? Boiled, espresso, percolator, instant coffee?
Coffee is always included, and in quantities! I will usually only use instant coffee, as I always chase weight and volume. But a day without coffee is always a bad day!
What are you up to at the moment?
Right now, I plan a year of education with some new and some senior mountain soldiers at the mountain platoon. It is a mountain specialist training that starts in the summer of 2019. Also, planning of an EU meeting together with the Swedish Army Subarctic Warfare Centre (Sv. Vinterenheten) and the Swedish Army's Land Warfare combat Centre (Sv. Markstridsskolan) that we conduct in Arvidsjaur with mountain schools from Europe (EU pooling & sharing, mountain training initiative). Then the light and warm part of the year has started. The ski slopes in Kåbdlais are open, so I will spend time with the family.
The next test of equipment will be the Millet K-shell Hoodie, a softshell with Gore-Tex layer…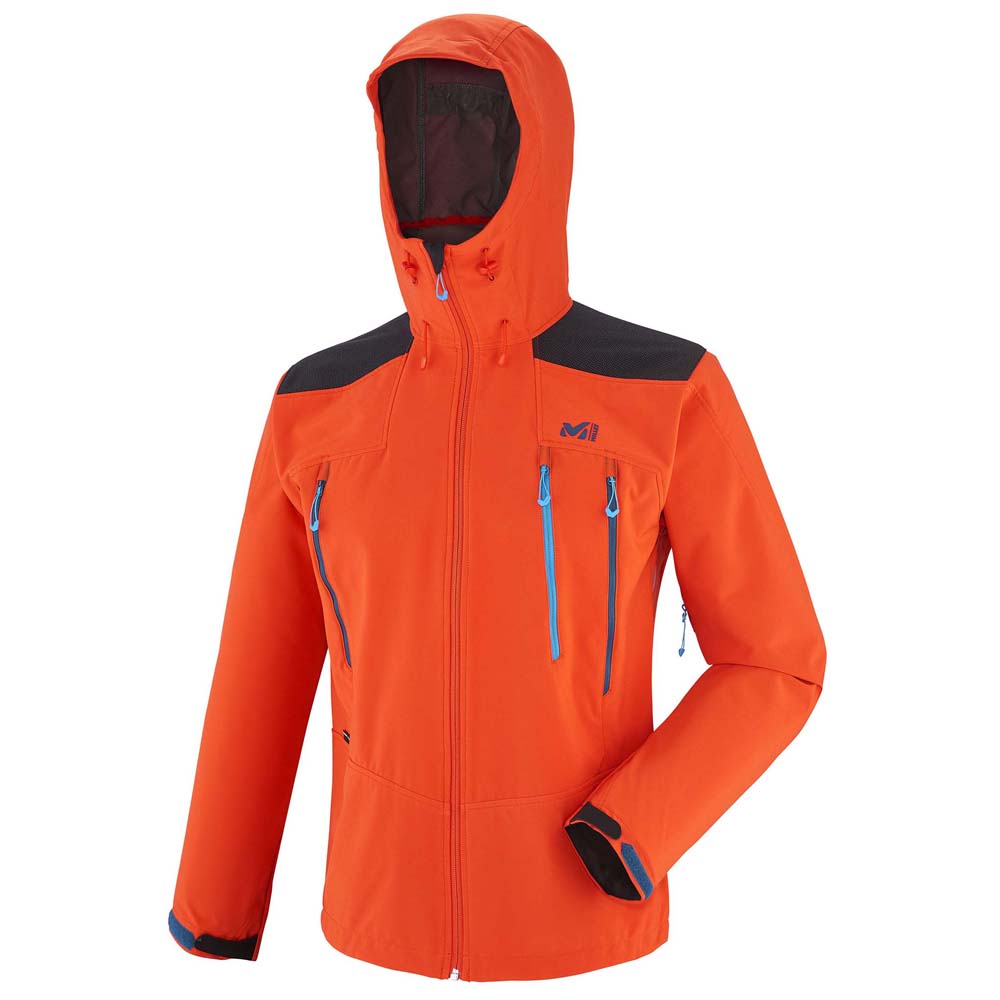 https://www.trekkinn.com/berg/millet-k-shield-hoodie/136673764/p
A reflection from my point of view, I think it will be interestning to see how the Right of Public Access will be handled related to that fact that the number of people accessing more extreme terrain. I think this areas a more sensitive of being used…
See ya soon..