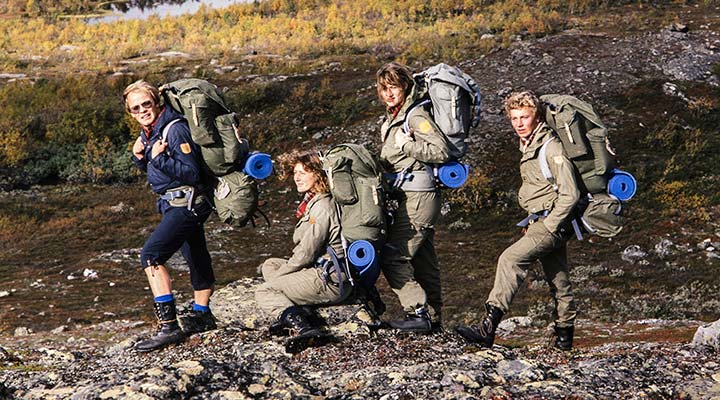 It was in 1967, I was just 2,5 year. My mother was a leader in the Swedish Outdoor association, and decided to go skiing with me. The plan was a 2,5K track. After 1,2K she had to carry me at her back (with my  skis on). My upbringing was characterized by the outdoor activity such as skating skiing and grilling over a open fire. At this time the thermos got an inner glass construction.
 This with a result of that 50% of the times the warm chocolate was undrinkable due to a chocolate and glass mixture. So when the steel thermos was introduce to the market it was a blessing. At this time all boots was in leather, and one inherits from one's older siblings. with the result of self-evident chafing wounds, when one also inherited already existing folds. So with todays boots with lining of Gore-Tex. There is no reason to complain😊. When I was thirteen years old I bought my own first backpack. Before that it was the old "pear" style backpack that was used from my side. The first real backpack I got was a Walk about.
A brand that have copied the Camp trails ponderosa sack. But I sold it before it was one year, for the same amount as I bought it for and bought a Fjallraven Raven Gyro instead. My first tent was a Rec Helags special. An old fashion standard tent. In the beginning of two thousand I looked at it, and realized that it was over twenty years. It was no discussion about that. So I bought a new one. And todays tent will be like to compare a log cabin with a castle. During the late 70s and beginning of 80s it was brands such as Fjallraven, Haglofs and Bergans of Norway who filled the counters in the outdoor stores. In mid 90s the Everest and McKinley brands was available, and to a fear price level. Now also the Internet store of outdoor was started. In the beginning of the 2000 I did my first guide assignment. And in 2010 I held a presentation for a group in the Swedish Outdoor association. They listed with interest, but afterword's one of the participant of the  audience asked me -do you got the tour guide certification? I answered -No I don't have that. She looked at me with a disparaging look and a little questioning…Today I am instructor and also a assessor of International Mountain Leaders. So no harm done…I think I have caught up that missing part from that time:-)
But what I can see is that there are two big difference since I started with the outdoor activities. The first is time. Today everything must got with a high speed. You press in all the activities in small "window" of time and you hope you will manage you plan of adventure. And all this without planning for bad weather for example.
The second is that for most of the  practitioners it is more important that other can see and know what they are doing, rather than themselves will experienced. You must be the cool adventurer doing the most extreme thing and also all the same time…
But hey, stop now. If we lift the sight. Why was we (I) doing it from the beginning? Being in the outdoor was for relaxing enjoy the experience of loneliness etc. our own smallness in the big perspective. But if we pressed all in between everything, we got the feeling of that we always are at the wrong spot for the moment and I think we are more obtained of getting everyone else knowing what we are doing instead of letting it be our self-experience the feeling and the atmosphere?! We got disappointed when the nature don't let the sun shine on us…But, it might be time for us to shine to the nature now instead, be a bit grateful for the magical experience in the great outdoors . Or what do you think?
ATRON – They Don't Care About Us Now – YouTube
See ya soon…